Recently, purlins have become a very popular product due to the variety of uses it can have in the construction sector. That is why it is worth knowing more about them, their types, characteristics and uses.
Also known as "monten", it is an architectural element that is popularly manufactured in the shape of a "C" or "Z" and is widely used in the industrial sector in the manufacture of roofs and light structures and as a support in the construction of complex structures.
Regardless of its shape, the structural purlin is made of carbon steel sheet and can be found in both commercial quality and high-strength steel, depending on the needs of each project.
At PROLAMSA we offer you 3 models of purlin in different lengths, widths and thicknesses. Manufactured from both commercial steel and high-strength steel.
Within our range of purlins you will find:

C Purlin: Used in the construction segment, it offers great structural strength. It is offered in widths from 3" to 14″ in gauges 16 to 10 (thicknesses 0.0598" to 0.1345 ") and in finishes such as painted red and natural galvanized.

Z Purlin: Its shape allows its transportation to be more efficient. It has the same resistance to load as the C purlin. It is offered in widths from 3 " to 14″ with sheet thicknesses from 0.0598″ to 0.1345″.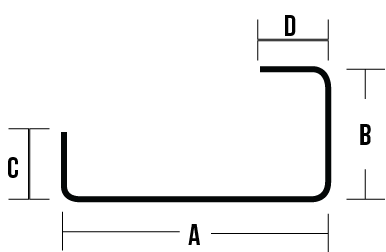 Poultry purlin: Specially designed to facilitate the cleaning of poultry barns and spaces where birds or animals are housed. Produced from galvanized sheet in widths from 4 "to 7" with sheet thicknesses regularly in 14 gauge (0.0747 ")
PROLAMSA's construction products offer solidity and resistance for your project. Contact us for feasibility in different gauges, lengths and finishes.